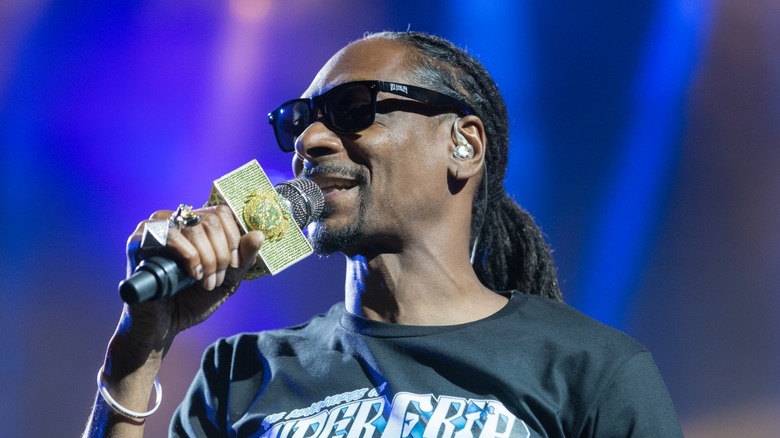 Sterling Munksgard/Shutterstock
Calvin Broadus blasted onto the scene in the early '90s with a fresh West Coast style of hip-hop, gaining widespread exposure as a part of Dr. Dre's wildly successful album, "The Chronic." Snoop's first album, "Doggystyle," came out a year later and sold an impressive 803,000 copies in its first week, according to the Los Angeles Times. Since then, Snoop has become one of the world's biggest stars with hit songs topping the charts, best-selling albums, and a larger-than-life persona. While Snoop has his roots in West Coast hip-hop, he has since ventured out into other genres and mediums, including his unexpected collaboration with DIY arts and crafts legend Martha Stewart. To state it mildly, Snoop Dogg is one of a kind.
While Snoop is an original, his collection of cars is, too. With a seemingly endless array of classic and modern cars, it would be hard to pin down his tastes into a single category, but he clearly has a penchant for SoCal lowriders. Although Snoop has used West Coast Customs, as so many big names in California do, his main guy for custom cars is a former crack dealer from Watts who goes by Big Slice, according to The New York Times. Big Slice does work for others, but Snoop keeps him busy almost full-time and he handles Snoop's entire collection. Looking through all of Snoop Dogg's cars would take some time, so for brevity's sake, here is a selection of cars in Snoop's collection that are as original as he is.
School bus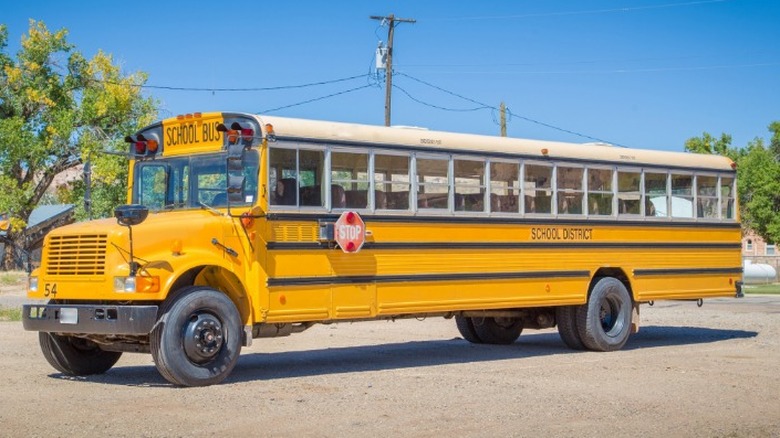 Bluejayphoto/Getty Images
When Snoop's kids were in school, daddy Dogg offered to coach the football team. As an enthusiastic booster for the team, Snoop went above and beyond for the players to outfit a school bus for the team to use on game day.
Around 2004, Snoop's car guy, Big Slice, picked up an old school bus for $4,500 to transform it into a first-class team bus in classic Snoop Dogg fashion. According to GQ, Big Slice painted the bus silver and black in the theme of L.A.'s professional Raiders football team, along with a design that mimics the team's logo as well. It is fitted with 27 video screens, DVD players, and 70 speakers all adding up to around $100,000 worth of equipment.
While the players surely loved it, some parents in the area had their own thoughts as Snoop started a competing league after two years of coaching. Parents of Rowland Heights accused him of poaching players from their team to join his new league based on perks that his notoriety and substantial resources made possible (via Los Angeles Times).
1967 Cadillac DeVille
Cadillacs are a favorite of the West Coast rapper, and he owns several of them from several decades. Among them is a custom 1967 Deville he calls "Brown Sugar." The 1967 Deville is a gargantuan vehicle built at a time when luxury in American cars meant comfort above all else. In 1976, the DeVille came with a 428-cubic-inch V8 that produced 308 horsepower (via Automobile Catalog). That sounds like a lot of power, but it had to move 4,550 pounds of car along so, while it would cruise comfortably on the highway, acceleration was not really a consideration.
Snoop's "Brown Sugar" sedan is done up proper with metallic brown paint and custom graphics along the side. The leading edge of the hood proudly displays "Snoop Dogg" in bold calligraphy-style lettering and the car rides on chrome and gold wire wheels. According to Motor Authority, this custom Caddy sports an actual chandelier hanging over the back seat and was part of a show of cars owned by music stars at the Henry Ford Museum in Detroit.
1974 Cadillac Coupe DeVille
Another notable Cadillac in the collection is a 1974 Coupe DeVille, of several coupes often referred to as his "Snoop DeVille." While it has two fewer doors, its length is not much less than the sedan version, and still has trouble fitting in most standard garages. Snoop Dogg's 1974 Cadillac is a car fit for a G. Customized by Big Slice, it is painted in a metallic green that resembles closely the favorite color of Snoop's favorite plant, and its name "Sticky Icky" is proudly painted on the rear of the trunk.
To complement the green paint are bright and shiny metallic stripes emulating a machined swirled aluminum look. Big Slice says the car came from the estate of an elderly woman who took very good care of it and the car needed little restoration, but received wire wheels and full hydraulics first thing. It features a trunk mural depicting the rapper in a sort of "Godfather"-like pose, and the car sports extra dark tint on the windows to keep all cabin activities private. Perhaps the coolest feature of this ride is its remote control car clone that was sold at a time in stores such as Walmart.
1958 Lincoln Continental
While Snoop may love his Cadillacs and own several, it is not exclusive. Also in his collection is a 1958 Lincoln Continental. Lincolns of any era are nice just as they come from the factory, and, although Snoop enjoys several completely stock classic cars, his Lincoln is done up just for him.
Mods on the Lincoln are extensive. Changes to the car, according to Auto Evolution, include swapping the original 430-cubic-inch V8 for a GM LS3 V8 and slapping on a set of what appears to be some 23 or 24-inch rims. The paint is, of course, custom and highly personalized, but the real feature to stand out on it is the inside. The interior of the car has been upgraded to the level of a Bentley. And that is because the interior literally came from a modern Bentley and retains full functionality in the Lincoln as though it was still in its original English habitat.
1968 Mercury Cougar
With the introduction of Ford's groundbreaking Mustang came its automotive cousin the Mercury Cougar. Although it split away into a drastically different car in the '70s, it shared almost everything with the Mustang, but came with substantial styling changes. To collectors, the Cougars of the late '60s are the most desirable, and Snoop's cougar is also desirable for its wild and unique customizations.
It has been long established that Snoop is a huge L.A. Lakers fan who shows his love for the team with extravagant displays, including on his cars. While he was able to gift his Lakers Pontiac to Kobe Bryant before his death, this Cougar was transformed with a tribute to his late Laker friend. The Cougar sports a Lakers color palette with yellow paint, a blue convertible top, and bright white custom interior. On the trunk is an airbrushed mural featuring Snoop and Kobe in what looks like the Lakers arena. It is an excellent piece of artwork placed upon an excellent classic car, displaying how much the player and his team mean to the rapper.
1980 Oldsmobile Cutlass Supreme
It should be obvious to anyone looking through the vast car collection of Snoop Dogg that he prefers vehicles from General Motors, even if they are not exclusive. They are overrepresented and in any large collection of classic GM vehicles, a fifth-generation Cutlass is almost mandatory, as it is one of the best-selling GM models of all time (via Jalopnik). For a time in the '80s, it felt as though every third car on the road was a Cutlass.
Snoop does indeed own one of the later boxy Cutlasses and it does not disappoint. Fitted with obligatory giant multi-spoke rims in gold, this car also has a matching custom steering wheel that looks almost exactly like the wheels outside. According to Auto Evolution, the original vinyl seats have been recovered in brown leather, the instrument cluster has been replaced by a digital screen, and a custom audio system was installed complete with Def Jam logo glowing on top of the speaker box. There is no word on any mechanical upgrades, as the original 5.0-liter V8 only made 155 horsepower, but, when you are riding on 24-inch rims, speed is a low priority.
[Featured image by Bull-Doser via Wikimedia Commons | Cropped and scaled | Public domain]
1957 Chevrolet Bel Air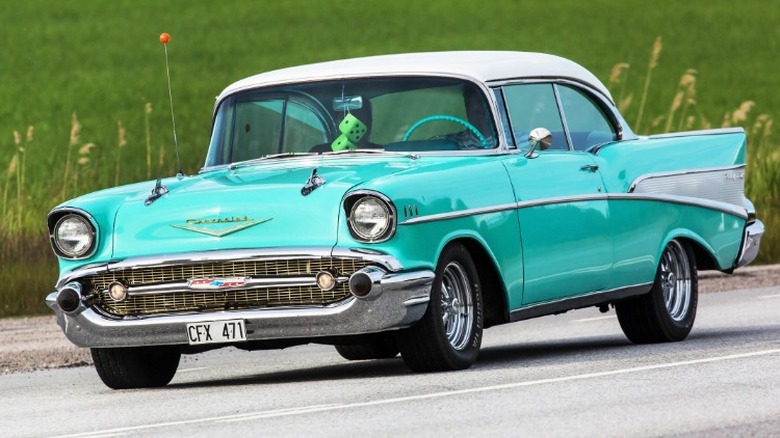 allanw/Shutterstock
As previously mentioned, Snoop has a diverse taste in cars and not all of them are extreme custom jobs. That is the case with his 1957 Chevrolet Bel Air, which retains most of its original character. The wheels have been swapped for Daytons. Otherwise, the only other modifications appear to be some gold chrome accent replacing the original chrome from the factory, along with eyelids on the headlights and a windshield visor, a popular accessory when the car was new. Also, the original engine was swapped for a tire-shredding LS V8, according to Motorious.
Unfortunately for Snoop Dogg, being a world-famous rapper with a classic car does not preclude him from some of the trials we all face at some point in our lives: an auto wreck. In October of 2021, Snoop himself posted a short video to Instagram showing the aftermath of what looks like an argument his car had in the rain with a curb that it lost. The damage does not appear to be significant, including a banged-up quarter panel and a seriously bent rim. Snoop included on the post that he, "Crashed in the rain," with a warning for everyone to take caution on the streets.
2005 Dodge Sprinter
Snoop's first van was bought shortly after fellow rapper Biggie Smalls was shot and killed after leaving the Soul Train awards at the Petersen Auto Museum in Snoop's hometown of L.A. That event shook Snoop enough to buy an armored van shortly after (via Hot New Hip Hop). Some years later, it was time to retire the old bulletproof van and the replacement came in the form of a Dodge Sprinter, a rebadged version of the European-style Mercedes van. This time, instead of upgrading it with bulletproof glass, it was outfitted with a mobile recording studio, thanks, in part, to West Coast Customs.
While Big Slice is Snoop's point man for custom cars, West Coast Customs wanted to earn his business customizing this van and agreed to his wishes of making the van a place he could record in while on the road. With help from Mackie, an audio company known for professional recording equipment, West Coast rose to the occasion and presented him with the completed project, posting a video of the delivery on Facebook. Not a lot of detail is available from the video or elsewhere, but Snoop appears impressed and pleased by the results.
The van would make an appearance again later. In 2019, according to HipHopDX, Snoop Dogg posted videos online with some choice words for the NYPD during an intrusive search of his vehicle and crew, complaining about its lack of necessity and the fact that they were traveling in full compliance with the law at the time, suggesting the officers may have had less than honorable reasons for pulling them over.
[Featured image by Michael Gil via Wikimedia Commons | Cropped and scaled | CC BY 2.0]
1966 Pontiac Parisienne
Classic American cars get an outsized representation in Snoop's collection, and large cars from the '60s and '70s make many appearances. One of them is a clean 1966 Pontiac Parisienne convertible. For any American readers who may be puzzled by this nameplate on anything but a boxy and underpowered '80s malaise mobile, GM marketed the Pontiac Catalina as the Parisienne in Canada, per Hemmings, and only applied that name to a car for the U.S. market in 1983.
For Snoop's northern import, he had Big Slice create an unmistakable L.A. Lakers theme, complete with the bright yellow color of the team and white accents to match. Of course, the car rides on some supersized rims and everything about it is custom inside and out. Most striking about the car is the mural on the trunk displaying Lakers players with Snoop, a well-known fan and huge supporter, in a team uniform and holding a trophy.
Snoop later gifted the car, according to Car and Driver, to the late Kobe Bryant as a retirement gift in 2016, who sadly passed just four years later.
Unbelievable retirement gift from my man Snoop today #KB20 pic.twitter.com/vTATznwnKc

— Kobe Bryant (@kobebryant) July 7, 2016
1969 Buick Riviera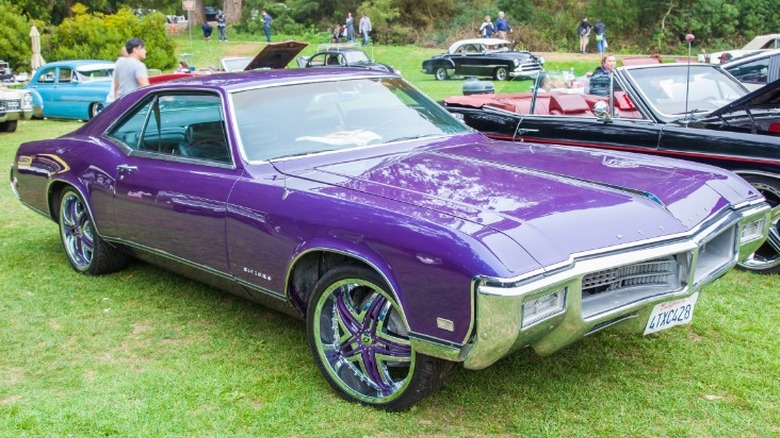 Radoslaw Lecyk/Shutterstock
Another entry into the array of classic GM vehicles in Snoop's collection is a 1969 Buick Riviera, one of two similar cars owned by the rapper. The Riviera started, according to Hemmings, as a concept to be used for an entry-level Cadillac, but was refused before being shopped to Oldsmobile and Pontiac before ending up at Buick. It was meant to compete with the successful Ford Thunderbird and the first Buick showed up in 1963. The second generation arrived in 1966 with substantial styling updates and a large Buick 430 V8 engine, making it not only an attractive car but one that also sold well.
Snoop Dogg owns a 1968 model in blue that features an image of him and his young daughters under the words "Me and my girls" on the hood, according to GQ. His 1969 model is a unique ride with a great paint job. Done in matte black with thin red pinstripes, it looks like something from a cheesy old horror film driven by Bela Lugosi, and that is part of why its name is so fitting, "Boogie's Blaccula." It is not as extravagantly styled as his other rides, but it features its name prominently on the rear deck lid in a 1970s movie poster style. His six-year-old son Boogie chose the name, according to E News. Not many pictures of this car can be found, but it has been seen in videos by Tha Dogg Pound and Kelly Rowland.